Driptech is an international
water technologies
company based in Silicon Valley, with offices in Pune and Beijing. Through its proprietary, widely deployable manufacturing systems, Driptech produces affordable, high-quality irrigation systems designed for small-plot farmers. The company distributes its products through local governments, corporate partners, and NGOs in India and China.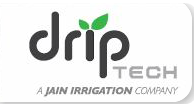 Its mission is to alleviate poverty by creating extremely affordable, water efficient irrigation solutions for small-plot farmers in developing nations. With its proprietary
manufacturing technology
, Driptech is able to produce and price drip irrigation systems at least 50% lower than the nearest competition.
Unlike other drip
irrigation systems
, its systems reduce over 12,000 parts per acre by eliminating the use of complex and expensive emitters, meaning easier installations and maintenance.